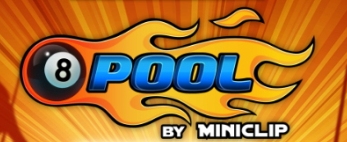 Game about:
8 Ball Pool by Miniclip is the world's biggest and best free Online Pool game available. Play against friends, show off your tables, cues and compete in tournaments against millions of live players. Try it free today! With this trainer, you can get easy to win! tested work perfectly on Windows 8 64bit with mozilla firefox.
Game address:
https://apps.facebook.com/livepool
Features:


System Bypass

Room Bypass

Line Target Hack

Require:


Trainer

Cheat Engine New Version

Browser

Tutorial:


Open 8 Ball Pool into lobby or select room

Open Trainer

Inject Proccess

Select Cheat

Click Activated

Happy Cheating

Important! wrote:one of the "Line Target or Room Bypass" will not be activated automatically to prevent the occurrence of errors. So suppose it is natural that the "Line Target" is not active on the trainer, but features will remain Active.
Video Tutorial:
<iframe src="http://www.facebook.com/video/embed?video_id=1475948755987851" width="600" height="420" frameborder="0"></iframe>
Download: 


Last edited by Cuup on 4th December 2014, 9:10 pm; edited 2 times in total