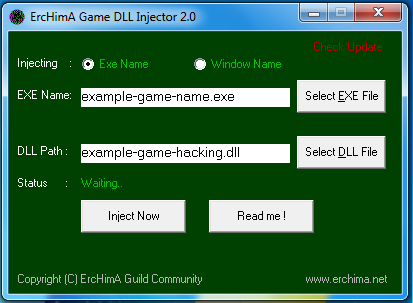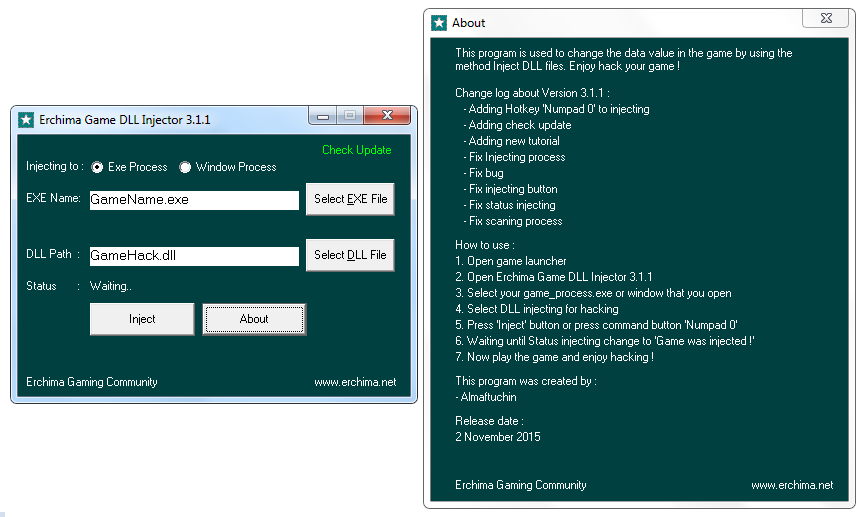 About:
ErcHimA DLL Injector is designed to enable gamers to stop protection in a game. And enables the user to modify the contents of client game or gaming system. With the DLL files that have been modified and inserted into this software, the user will be easier to play the game. Good luck and happy hacking!
Created by: Release date:
October 8th, 2014 (version 1.0)
February 19th, 2015 (version 2.0)
November 2nd, 2015 (version 2.0)
Features:


Free viruses

Undetected malware

Undetected ilegal program from Game Protect

Support to all game

Support online game client

Support bypass game protect

Support bypass game system

Support DLL injection

Support DLL mod

Support Window Process

Adding Tutorial, and about

Easy to use

Tutorial:


Select your inject type. Exe file to select EXE from browse explore, and Window file to select proccess that is being run.

Press Select EXE file button if you after select Exe file and select exe proccess if you want to run it.

Press DLL file and will showing browse to select DLL hack, mod, or cheat.

Press Injectafter completed the step, and look the Injection status.

After waiting status change,means inject has successfully.

Happy Hacking!

Version 3.1.1 wrote:
Change log:
[-] Adding Hotkey 'Numpad0' for injecting
[-] Adding check update
[-] Fix injecting process when attach to EXE and DLL file
[-] Fix bug
[-] Fix status scaning
[-] Fix scaning process

Release date:
2 November 2015

Version 2.0 wrote:
Change log:
[-] Adding Hotkey 'Numpad0' for injecting
[-] Adding check update
[-] Adding enw tutorial
[-] Fix injecting process
[-] Fix bug
[-] Fix injecting button
[-] Fix status scaning
[-] Fix scaning process

Release date:
19 February 2015

Download:


Last edited by Almaftuchin on 2nd November 2015, 11:48 am; edited 13 times in total